Social media lights up with celebs' Hanukkah hashtags
Don't say the Chosen People don't get their share of love: Influencers from all circles take to Facebook, Instagram, and YouTube to wish all a happy Festival of Lights
Celebrities, politicians and influencers of the Jewish and non-Jewish varieties took to social media to wish their followers a happy #hanukkah, #chanukah, or sometimes both, just to be on the safe side.
Since Hanukkah falls during the general holiday season (and is a "minor" holiday, so observant Jews can use technology), it's a prime opportunity to post pictures of oily treats and burning lights on social media.
The holiday is all about bringing light to those near and far, and what better way to spread the light, than to share it with all of one's followers?
Get The Times of Israel's Daily Edition by email and never miss our top stories Free Sign Up
The First Family
A post shared by Ivanka Trump (@ivankatrump) on
Unsurprisingly, Jewish First Daughter Ivanka Trump posted on Instagram images from both the White House official lighting, and her family's more intimate one at home. According to The Daily Mail, the Kushners' menorah could be seen from outside their home, and a Star of David ornament hangs on their window.
Isla Fisher
Without a frying pan in sight, actress Isla Fisher brought a unique spin to the oily holiday with this photo and the caption, "This is my latka frying outfit." The wife of Sasha Baron Cohen — of Borat fame — converted to Judaism before marrying Cohen in 2010.
Marlee Matlin
Actress Marlee Matlin did her Hanukkah greeting in sign language. Matlin is an outspoken activist for the Jewish and deaf community. "Just wanted to say Happy Hanukkah! Love you!" she signed.
Andy Cohen
Bravo's Andy Cohen gave a special shout out to Roy Moore's Jewish lawyer while posing with a light up "Mazel" sign. Cohen, the host of Bravo's "Watch What Happens Live" and executive producer of the "Real Housewives" series, has taken on "mazel" as a catchphrase, selling swag with the word on his Bravo store.
Mayim Bialik
Jewish Orthodox actress Mayim Bialik lit her menorah from the set of The Big Bang Theory along with other Jewish members of the crew. Check out her Hanukkah YouTube video on what's true and false about the Jewish holiday.
Politicians around the world also spun their own Hanukkah greetings.
Sadiq Khan
Mayor of London Sadiq Khan posed with the Maccabeats after their show in Trafalgar Square in London. The Maccabeats just released their new Hanukkah song, "Candles on the Sill" celebrating their 10 years of music making.
"Great to have @Maccabeats join us in Trafalgar Square — celebrating #Chanukah and the huge contribution the Jewish community makes to our city. #LondonIsOpen #ChanukahSq17," he wrote on Twitter.
Great to have @Maccabeats join us in Trafalgar Square – celebrating #Chanukah and the huge contribution the Jewish community makes to our city. #LondonIsOpen #ChanukahSq17 pic.twitter.com/5iS0mKsJEL

— Sadiq Khan (@SadiqKhan) December 12, 2017
Rahm Emanuel
Chicago's Jewish Mayor Rahm Emanuel lit the menorah with Chicago's Jewish United Fund. The outspoken chief of staff to former president Barack Obama is known for his strong ties to Israel and the Jewish community.
Lighting the menorah on the first evening of Hanukkah at @JUFChicago. #HappyHanukkah pic.twitter.com/HTImkQuDeB

— Mayor Rahm Emanuel (@ChicagosMayor) December 12, 2017
Eric Garcetti
Los Angeles Mayor and Jewish-Mexican-American Eric Garcetti posted a video on Instagram.
Affectionately called the "Kosher burrito," Garcetti shared a quick version of the Hanukkah story: "The Maccabees returned to liberate Jerusalem and experienced an incredible night. A light with enough oil to last for one day lit the temple for eight, and that story of courage and dedication has delighted generations of people because its message is timeless and universal: nothing is stronger than our faith in God."
A post shared by Mayor Eric Garcetti (@mayorofla) on
Gregg Abbot
Texas Governor Gregg Abbot lit the menorah along with community members at the state capitol in Austin. In a separate Hanukkah message on Twitter, Abbot wished Jewish Texans a happy holiday, saying that "Hanukkah reminds us of the constant struggle for religious liberty and to be thankful to live in a place where we can practice our faith free of persecution."
This evening I joined with Jewish leaders for the Menorah Lighting Ceremony at the Texas Capitol. #HappyChanukah #HappyHanukkah pic.twitter.com/QvcFXKZUtU

— Greg Abbott (@GregAbbott_TX) December 13, 2017
Chuck Schumer
Stuck at work, Senator Chuck Schumer lit his menorah from the office. The democratic Senate minority leader is one of the highest ranking Jewish members of US government.
Tonight from my office in Washington, wishing everyone a very #HappyHanukkah pic.twitter.com/y3zo2LwTtN

— Chuck Schumer (@SenSchumer) December 12, 2017
And finally, we're not sure Kanye signed off on this last one, but we kinda love it.
#HappyHanukkah to all from The Times of Israel.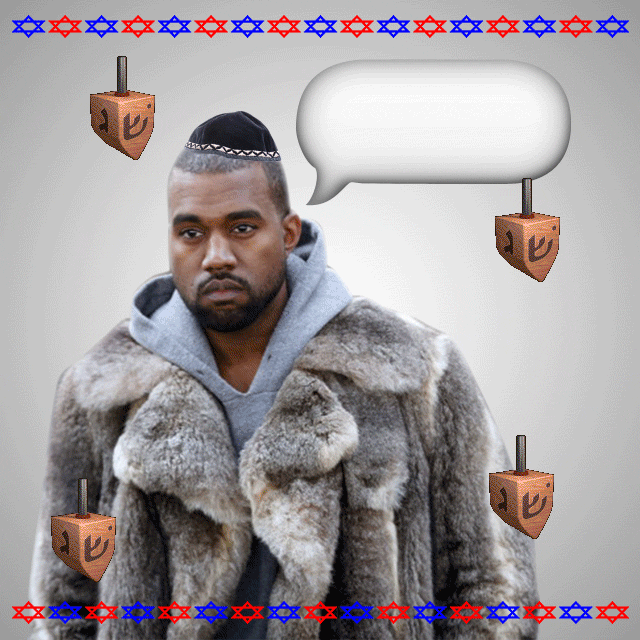 Join us!
A message from the Editor of Times of Israel
The Times of Israel covers one of the most complicated, and contentious, parts of the world. Determined to keep readers fully informed and enable them to form and flesh out their own opinions, The Times of Israel has gradually established itself as the leading source of independent and fair-minded journalism on Israel, the region and the Jewish world.
We've achieved this by investing ever-greater resources in our journalism while keeping all of the content on our site free.
Unlike many other news sites, we have not put up a paywall. But we would like to invite readers who can afford to do so, and for whom The Times of Israel has become important, to help support our journalism by joining The Times of Israel Community. Join now and for as little as $6 a month you can both help ensure our ongoing investment in quality journalism, and enjoy special status and benefits as a Times of Israel Community member.